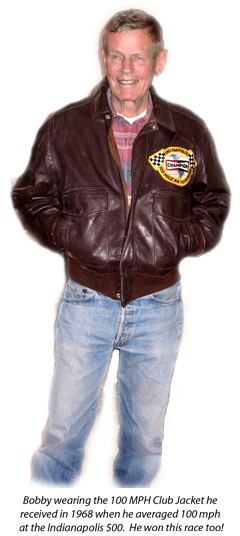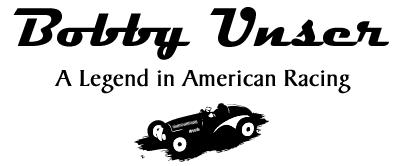 Mention the name Bobby Unser to the average person, and winning auto races instantly comes to mind. Unser, the older of the two famous racing brothers, established the family legend many years ago by capturing his first Indy 500 in 1968 1975 & 1981.

Unser has compiled one of the most impressive list of accomplishments in American racing history.
Quickly glancing over his racing record, it's easy to see why he was selected as one of Sports Illustrated's "Top Five Athletes" in the popular magazine's first twenty years, along with the Martini & Rossi, and Olsonite "Driver of the Year" awards.

Among Unser's marks include: the first driver to record a 200 mph qualifying average speed in Indy car competition, 35 career Indy car wins, 49 Indy car pole positions, eight 500-mile Indy car victories, winnings over $2.6 million, 4 International Race of Champions (IROC) wins, a record of 13 Pikes Peak Hill Climb wins.


But, while the father of four notched a sensational racing chronicle, Unser also has served as one of the corporate industry's premier spokesmen. Unser worked as ABC Television's chief analyst on the network's Indy 500 telecasts, he has utilized his vast background and knowledge to express important messages to the general public through speaking engagements, television and radio commercials, print advertising, and other corporate venues.
---