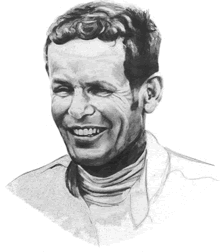 AREAS OF SPECIALIZED EXPERTISE
| | |
| --- | --- |
| Accident Reconstruction | Tire Testing |
| Systematic driving skill  | Human Factors |
| Suspension | Tire Formulation |
| Aerodynamics | |
QUALIFICATIONS:
Goodyear,  I contrived, developed and tested the original 2 ply tires used at the Pikes Peak Hill Climb Race and later for passenger cars.  I designed and developed mud and snow tires for the Pikes Peak Race which are still used in the race today.  My association with Goodyear ran from 1959 through approximately 1982.


I developed and tested thousands of  tires used for all types of asphalt racing.  Separately I developed and tested rain tires for Indy Cars and many other types of racing.


I helped design, develop and test bias ply and radial tires used in racing for companies such as Goodyear tires, Firestone tires, Armstrong tires (United States and France), Armstrong tire (Sears), Pirelli tire, Bridgestone tire.


I designed, developed and tested The Bobby Unser Tires for passenger cars.


I developed and tested tires for sprint cars and midget car racing for approximately 20 years.


I developed and tested tires for Go-Kart racing through many tire companies, plus recapping race tires.


Notation:  I have designed, developed and tested more racing tires than any other person in the years approximately 1955 to 1998.
ENGINEERING:
Schools:  Air Force, studied the equivalent of a four year college in electronics and mechanics graduating in the top five at Warren AFB, Cheyenne, WY.  I was self taught and schooled by some of the best racing engineers in the world for approximately 20 years, in race car construction, suspension, design and complete aerodynamics. 
Additionally:
I designed snowmobiles for companies such as Chaparral and Polaris and was first to put shock absorbers and design independent front suspensions for snowmobiles.
I earned my private pilots' license in 1954 and continued in aviation schools to learn and acquire my multi-engine and instrument ratings.  I have had numerous airplanes throughout my career.  Today I fly and own the sophisticated Piper Aerostar and a Cessna 182 RG.
PROJECT ACHIEVEMENTS
Helped develop "Toronado" front wheel drive for Oldsmobile division of General Motors;
High performance testing work for the Chevrolet Division of General Motors;
High performance testing and performance driver Audi of America & Germany;
Vast experience and knowledge in racing and high performance passenger car engines.
Employed by Ford Motor Co. to develop and drive race cars.
Tire Development with Goodyear Tire and Rubber Company
RACING HIGHLIGHTS
3-time Indy 500 Champion - 1968, 1975, and 1981
2-time National Champion - 1968 & 1974
35 Career Indy Car Victories (4th All-time)
2-time winner of the International Race of Champions
49 Career Pole Positions (3rd All-time)
Indy 500 Hall of Fame Member
International Motorsports Hall of Fame Member
13-time winner Pikes Peak Hill Climb
8 "500" Mile Victories (Indy 500 - 3, California 500 - 4, Pocono 500 - 1)
1989 - Inducted into AARWBA's Legends in Racing.
1990-Inducted into International Motorsports Hall of Fame
1990-Inducted into Indianapolis Motor Speedway Hall of Fame- Indiana
1993 - Won inaugural Jaguar/Fast Masters Racing Series
1993 - Bonneville Salt Flats - set new land speed record - 223.709 mph
1994 - Inducted into the Motorsports Hall of Fame-Novi, Michigan
1999-Indy 500 Front Row Award.  9-time front row qualifier (68, 69, 71, 72, 73, 75, 77, 80, 81)
2003/2004- Michigan Intl Speedway renamed the pole for Bobby Unser's 7-time pole qualifying record. It is now known as "The Bobby Unser Pole Award"
---